Knowledge
The Abstract – September 2020
September 2020
As summer comes to a close, we're focused on maintaining our health with exercise, healthy food, a supplement routine with Basis and Matter, and the latest health and science news. In this month's Abstract: a revolutionary approach to omega-3 supplements, how reading fiction boosts empathy, the most googled neuroscience questions, and more.
Not All Omega-3s Are Created Equal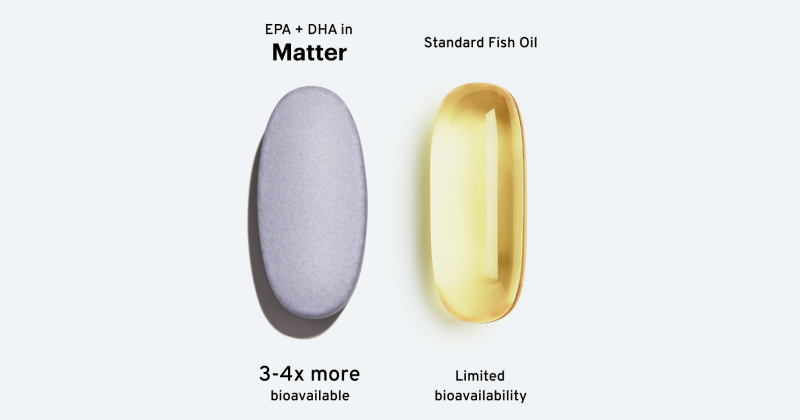 Omega-3s have been researched for more than five decades for their protective effects in brain, heart, joint, and eye health. Did you know that 80% of Americans don't get enough of these crucial fatty acids in their diet? That's why many take supplements — and not all omega-3 supplements are created equal.
Matter is a breakthrough omega-3, with EPA and DHA in free fatty acid form that are 3-4x more bioavailable than standard fish oil capsules. What's more, the Matter formula combines these superior omega-3s with a powerful antioxidant extracted from bilberries, and a B-vitamin complex patented by Oxford to slow the age-related brain loss associated with mild memory concerns.
Have you researched your omega-3?
| | | |
| --- | --- | --- |
| Share | | |
What We're Reading
These are third party articles about science that we find interesting but have no relationship to
Elysium or any of our products. Elysium's products are not intended to screen, diagnose, treat,
cure, or prevent any disease.
The most googled neuroscience questions. If you're fascinated by the brain, the best 15 minutes you can spend is watching actress and neuroscientist Mayim Bialik answer 50 of the most googled questions about neuroscience. (Wired)
4,000-year-old bread, anyone? An amateur Egyptologist (who also created the XBox) extracted yeast from a loaf of bread baked around 2000 B.C. in Thebes. Now, he's partnered with an archaeologist to use that yeast to bake bread in California. (The Atlantic)
Reading fiction boosts empathy. Read any good books lately? Researchers at the University of Toronto and elsewhere say that reading novels helps us step outside of our own experience and understand other people, increasing our capacity for empathy. (Discover)
Are mental disorders actually disorders? A new paper from Washington State University suggested that scientists may want to think about disorders like anxiety and depression as responses to adversity rather than chemical imbalances. (Forbes)
Kindness boosts your health. We all know helping others is objectively good, but it turns out it has tangible benefits for us, too. A new study shed light on the topic, including the finding that random acts of kindness — "such as helping an older neighbor carry groceries" — is associated with overall well-being. (Science Daily)
TERM:
Antioxidant
\ ˌan-tē-ˈäk-sə-dənt\
Substances that may help protect cells against free radicals. Antioxidants include vitamins C and E, as well as flavonoids, tannins, phenols, and lignans — found in plant-based foods like fruits and vegetables.
Thank you for reading.

What topics would you like to see more of in
The Abstract? Drop us a line at

[email protected]

.
Science Is Social
© 2020 Elysium Health Inc., P.O. Box 923, New York, NY 10013 Contact us: (888) 220-6436 or

[email protected]


Unsubscribe

These statements have not been evaluated by the Food and Drug Administration. This product is not intended to diagnose,
treat, cure or prevent any disease, and is intended for healthy adults, 18 years of age or older. Do not take this product if
you are pregnant or nursing.